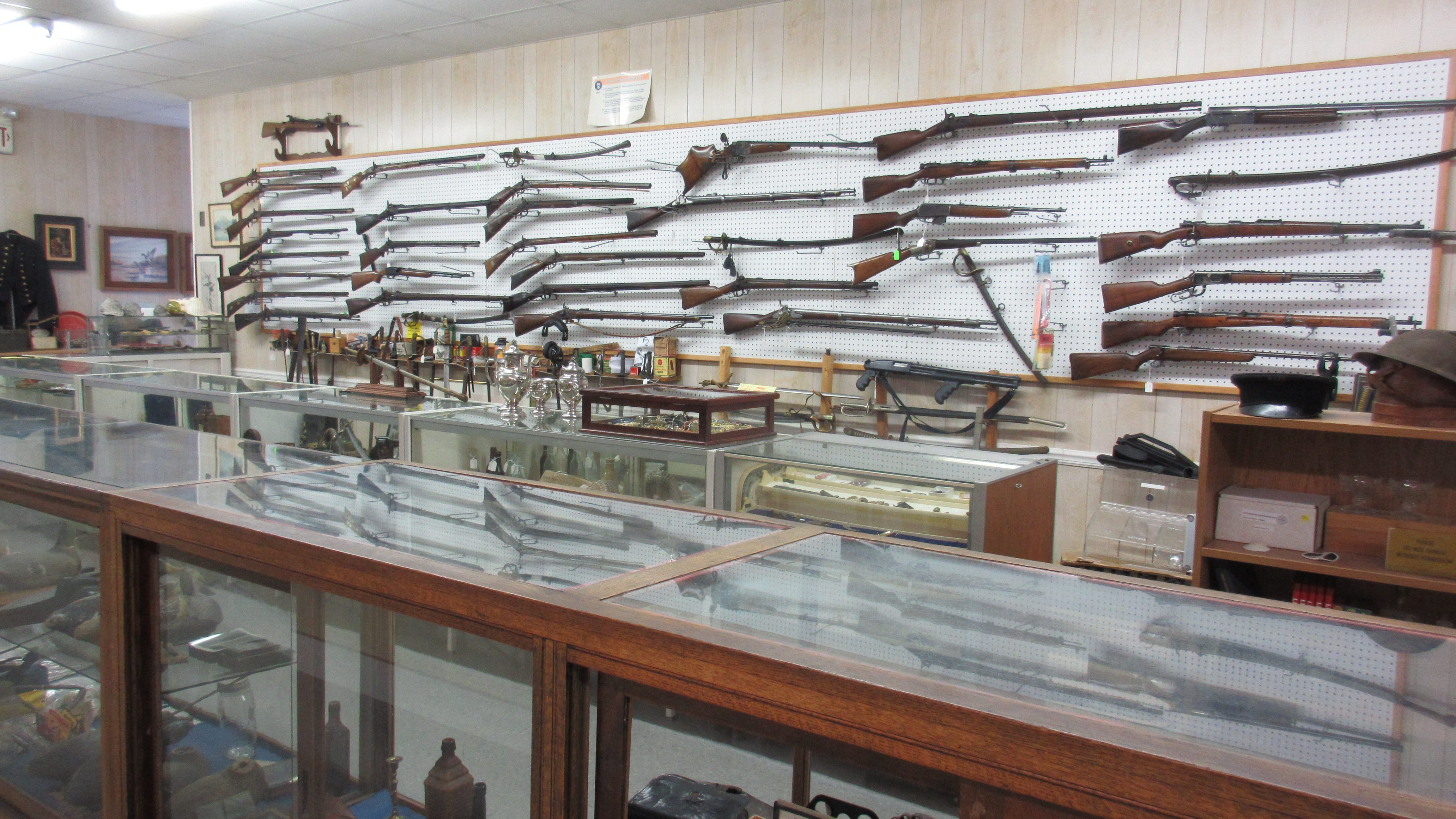 Owned by Will and Lynn Gorges, Battleground Antiques, Inc. is one of the most established historical militaria businesses in the United States. Beginning as T&G Edged Weapons with partner John Thomas, the business originated in Westboro, Massachusetts in early 1981, and over the years has also been known as Nor'East Militaria and Will Gorges Civil War Antiques.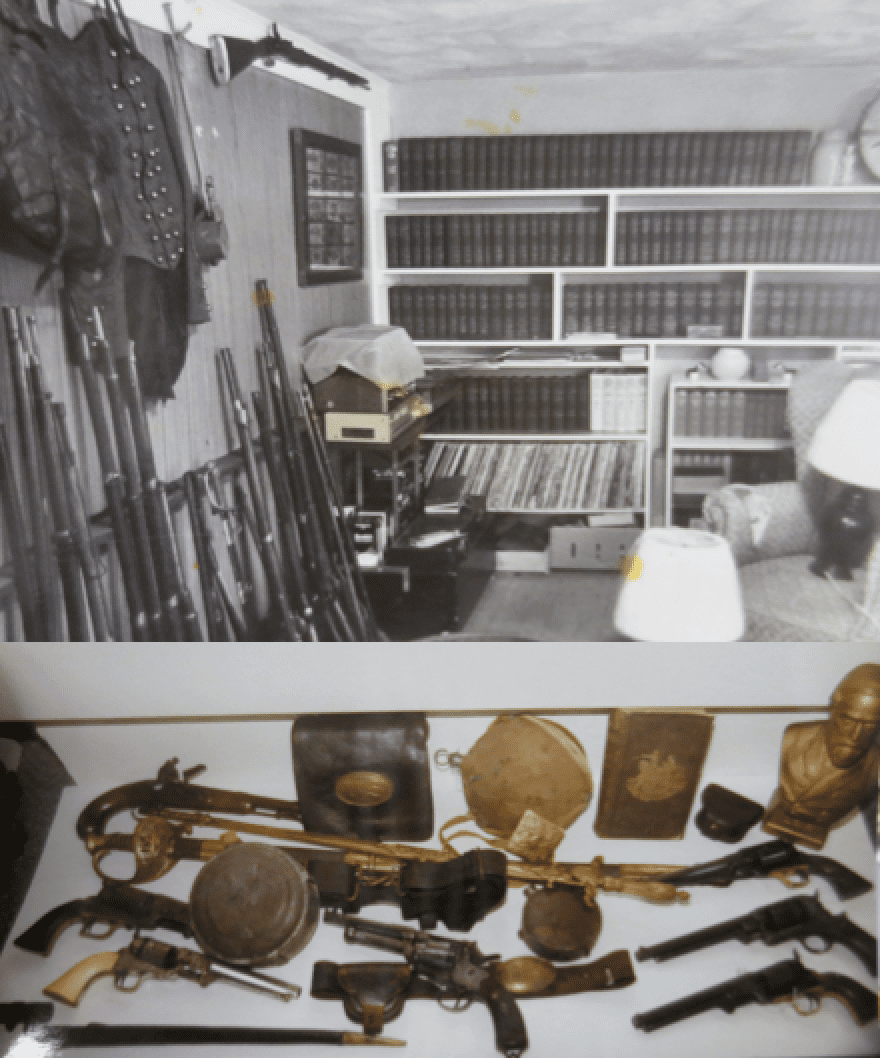 Will, an enthusiast since the late 1950's when his father gave him two family Civil War swords, met John while employed as a Quality Assurance Engineer in the pharmaceutical industry. John also had a lifelong passion for historical artifacts, complemented by interests piqued during a tour of duty in Vietnam. Both became fascinated with the incredible array of historical weapons and artifacts on display at the Higgins Armory Museum in Worcester, Massachusetts, which led to more arms fair, gun show, and auction trips across New England in search of rare and fine military collectibles. In time, as their collections outgrew the spaces they lived in, both began to sell duplicates and eventually began a part-time mail-order and gun show business. They parted ways in 1984, with Will forming Nor'East Militaria, specializing primarily in original Civil War artifacts.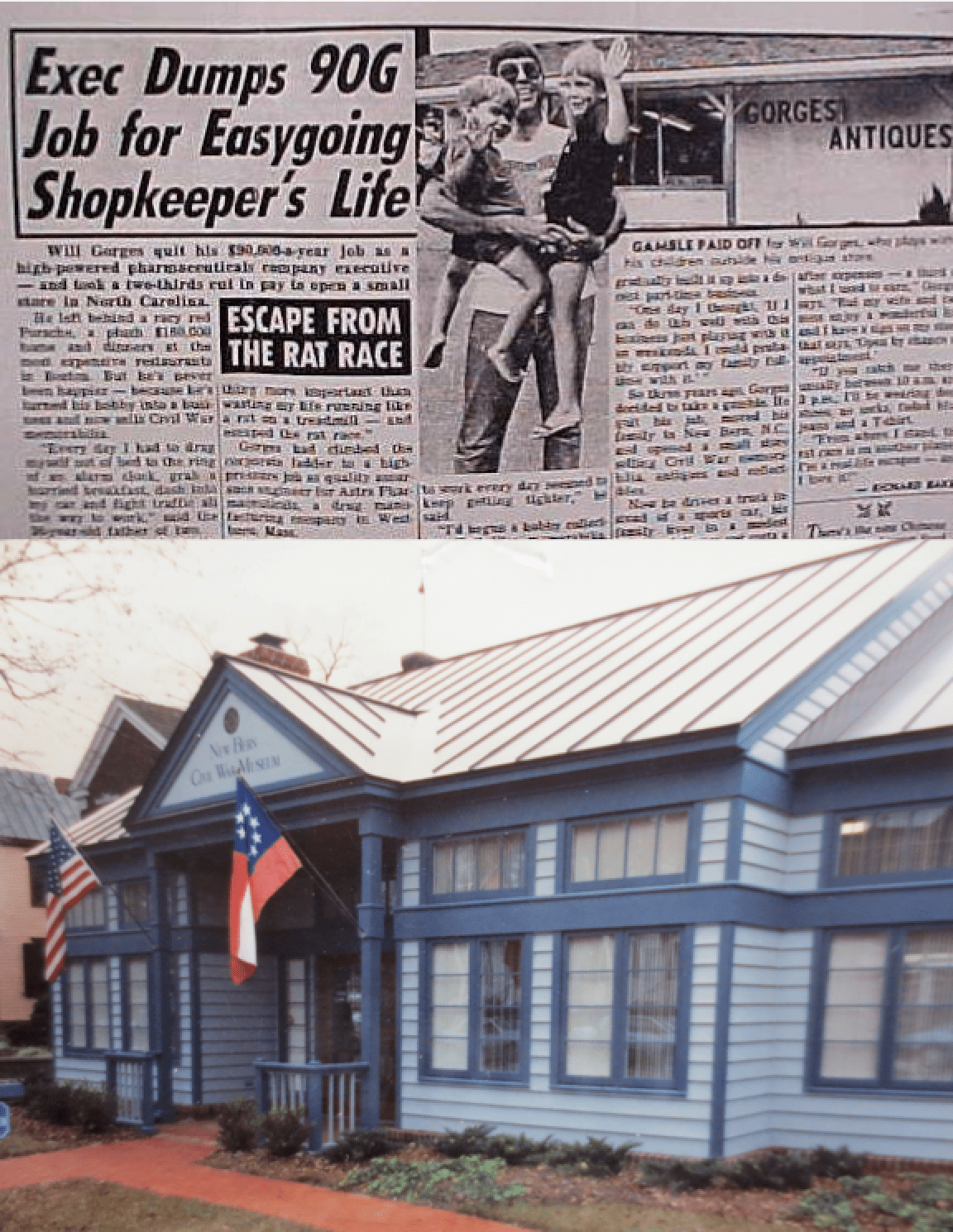 In 1986, Will and his family moved to New Bern, NC, and in 1987 established a 1,600 square foot walk-in business at 308 Simmons Street. In 1989, Will and Dr. Harold Vandersea founded the New Bern Civil War Museum at 301 Metcalf Street, a half block from Tryon Palace (the colonial governor's palace) in historic downtown New Bern. The Museum's displays won numerous awards over the next seven years, including the coveted "Best of Show" at Gettysburg. The museum closed its doors in 1996, with many of the artifacts establishing the core of the collection of Pamplin Park near Petersburg, Virginia.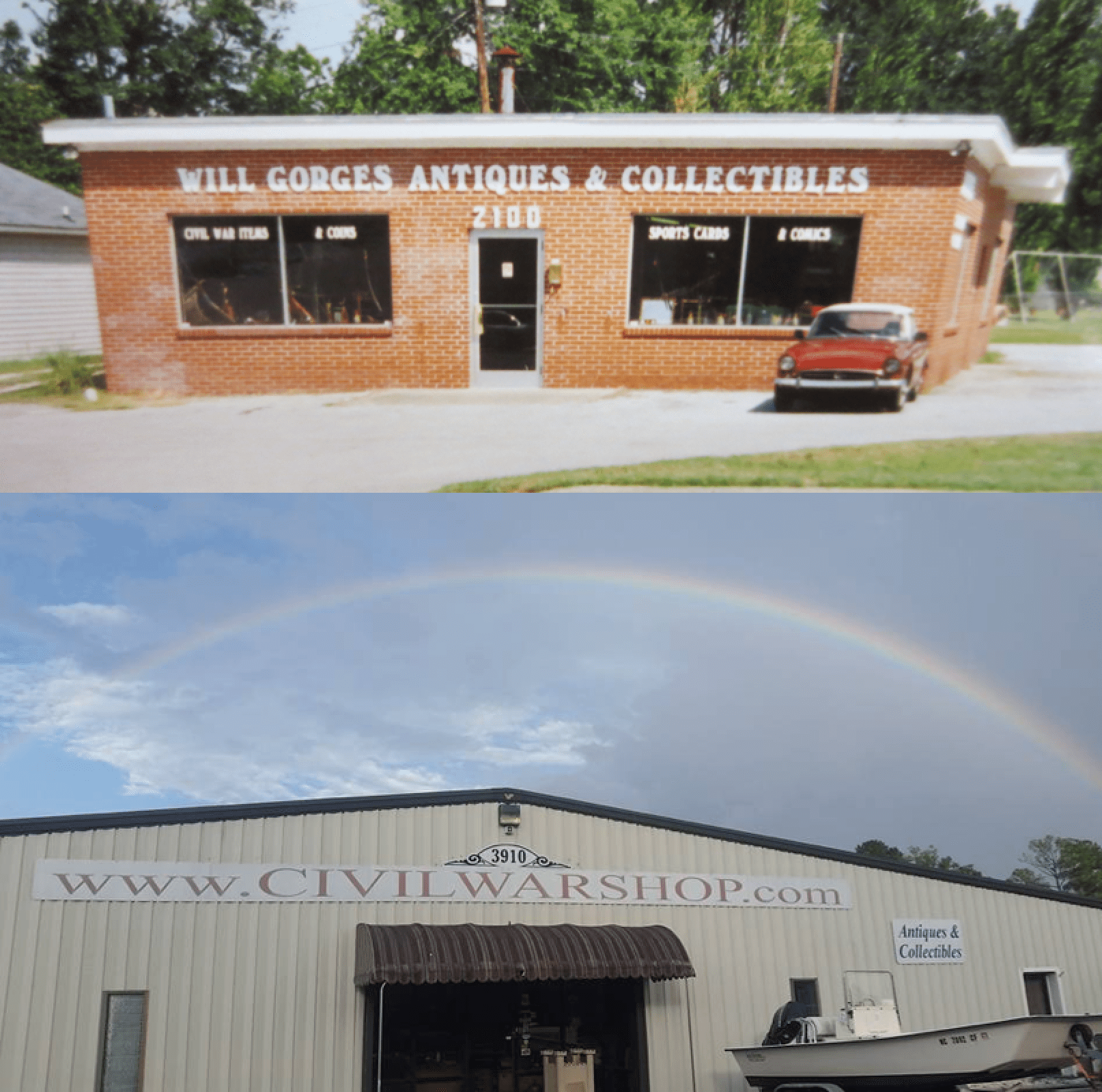 In 1993, the business moved to a larger 2,200 square foot facility in New Bern at 2100 Trent Boulevard. By 1997, due to the continually expanding nature of the walk-in trade, Battleground Antiques, Inc., was established in a 5,000 square foot building located at 3910 US Highway 70 East, square in the center of the line of the Battle of New Bern of March 14, 1862. By 1998, an additional 6,000 square feet were added to accommodate a full Textile Conservation and Restoration Facility as well as the Civil War book inventory of Bill Mason Books, an established business from Michigan which closed in 1998.
Over the past four decades, Will has attended hundreds of shows all across the country and overseas (including the London Arms Fair in England) and has spoken to dozens of school and civic groups in North Carolina on a wide array of Civil War topics. He has done hundreds of appraisal and evaluation events for a wide number of historical and preservation societies and groups and often works multiple state and national institutions who are seeking to expand their collections. His wife, Lynn, a noted textile conservation specialist, attends events as well and is often an in-demand speaker at conferences nationwide.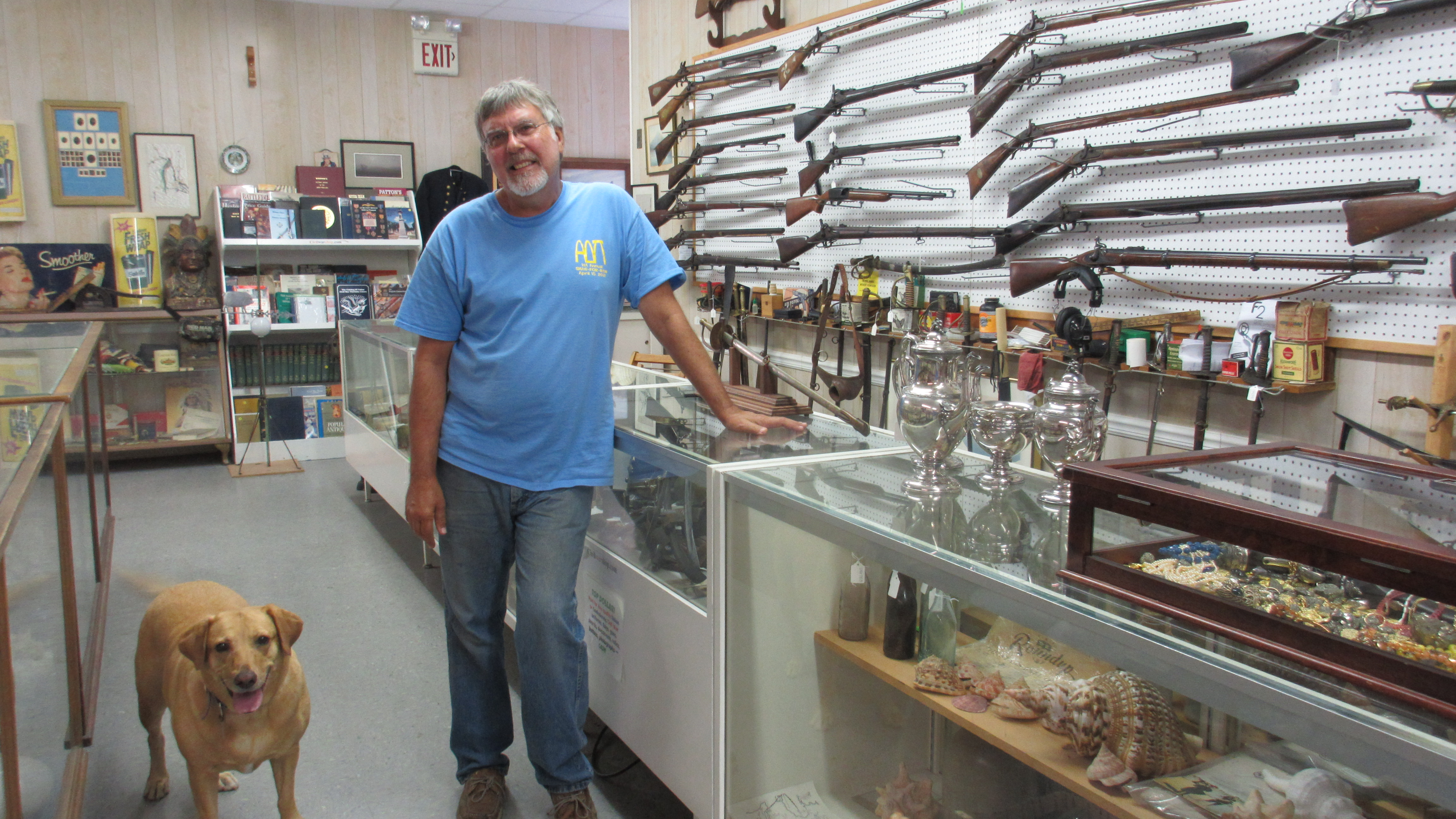 Client, bank and Chamber of Commerce references are always available upon request. If you are a serious collector or investor, or if you're just starting your collection, we urge you to check out our stuff! You will not be disappointed with our selection of inventory, or the quality of the services we offer.

Thanks for visiting!
About Us

Will Gorges
Life Member: Company of Military Historians; NC Division; Sons of Confederate Veterans; National Rifle Association (NRA)
Member: Association of Online Appraisers (AOA); International Society of Appraisers (ISA)
Licensed Federal Firearms Dealer (since 1981)
Category Specialist: AccuExperts
Category Expert: JustAnswer/Pearl.com (10,000+ appraisals); Lofty.com; LiveAnswer, Inc.; WhatsItWorthToYou.com
Weapons Evaluation Specialist: AntiqueGuns.com
Valuation Expert: North South Trader Civil War Price Guide
Consultant / Approved Appraiser: NC Museum of History; Ft. Macon State Park; Ft. Fisher State Park; NC Maritime Museum; Museum of the Cape Fear; Tryon Palace State Historic Site; New Bern Preservation Foundation; New Bern Historical Society; Outer Banks History Center; Confederate Naval Museum; National Park Service; Confederate Museum (Charleston, SC); Joyner Library, East Carolina University; State of Alabama Museum of History; UNC-TV; "History's Mysteries" (History Channel) television series; Texas Civil War Museum

Lynn Lancaster Gorges
Textile conservation and restoration expert specializing in military uniforms, flags, antique and vintage quilts, and clothing (early 1700's-present)
Owner, Historic Textiles Studio (founded 1990)
Trained at The Smithsonian Institution, Colonial Williamsburg, Cooperstown Textile School, The Campbell Center of Preservation, NC State University College of Textiles, Barbara Brackman's Schoolhouse Studio
Toured France, the Netherlands and England studying quilts and chintz textiles
Special guest on TheQuiltShow.com, presenting on antique quilt conservation and restoration, and the history of quilting in North Carolina from 1850-1900
Researcher/grant recipient to study the early manufacturing of textiles in North Carolina related to domestic use of textiles in the 19th century
Notable clients & presentations for: The Texas Civil War Museum (Fort Worth, TX), The York County Museum (Rock Hill, SC), The Nantucket Ship Wreck and Life Saving Museum (Nantucket, MA), Beaufort Historical Society (Beaufort, NC), May Museum (Farmville, NC), The Lost Colony Outdoor Drama, Outer Banks History Center (Manteo, NC), SC Historical Society, Washington Light Infantry Museum, Confederate Museum of Charleston (Charleston, SC), Wayne County History Museum (Goldsboro, NC), various North Carolina State Historic Sites, and numerous private clients